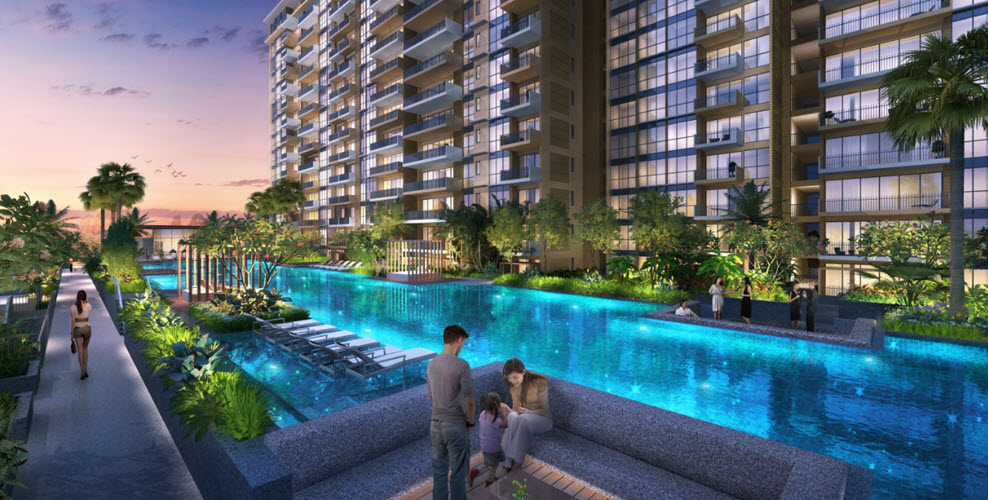 Come live in The Vales Executive Condominium, where everything is grand and surrounded by freshness. A choice, 175,236-square foot parcel in Sengkang (District 19) will be yielding 517 posh homes and a wealth of leisure offerings befitting the finest of lifestyles. Nine 15-storey buildings will comprise the private residential community along Anchorvale Crescent, touched by the idylls surrounding the new Punggol Watertown and Sungei Punggol.
The Vales EC is a project of Anchorvale Residences, Pte. Ltd. It's a 99-year leasehold estimated to attain its TOP in August 2018, and its legal completion in August 2021.
A Sublime Living Experience
The Vales EC is a safe community perfectly secluded away from the din of the city and enfolded in verdure. It's the kind of address you won't ever mind coming home to at the end of a busy work day. The refreshingly restful environment is made even safer by the presence of 24/7 security, and even more convenient by the basement parking area.
A home is made much more appealing and enduring by a well-thought design. That's why the developers brought in Cynosure Design – to turn the usual suburban EC into something more dynamic and revitalizing. Each lifespace is intended to reverberate with a positive energy, due to the spacious floor plan and the luxurious arrangement. This isn't quite something anyone experiences everyday, but you surely will.
Unit Types
- Two-bedroom unit = floor area: between 753 and 775 sq ft
- Three-bedroom unit = 904 to 1,044 sq ft
- Four-bedroom unit = 1,270 to 1,410 sq ft
- Five-bedroom apartment = 1,593 sq ft
- Three-bedroom maisonette (bi-level villa with PES and parking) = 1,647 to 1,7 22 sq ft
- Five-bedroom penthouse (with open terrace) = 1,658 1,690 sq ft
Everyday Leisure
A gamut of conveniences will be right outside your door, including a lap pool, a spa pool, an aqua deck and a pool deck. There will even be a cozy cabana near the swimming area, where you can relax outdoors without getting scorched by the sun.
Apart from swimming, you can loosen up doing other activities. You can recline at one of the hammocks in the Hammock Cove. Or maybe grab a friend for some indoor fun in the games room, or a round of tennis in the Tennis Court. You can shed a lot of stress while you work out at the gym, or sweat it out at the steam room. Bring a buddy or two or some company and conversation. And nothing beats a good old jogging track, where you can run or brisk walk to keep yourself healthy. For the children, there will be a water play park and a playground.
There will be lots of spots for hanging out or gathering together, such as the the Clubhouse, the Family Pod, the Family Pavilion, the Sitting Area, the BBQ Corner, and the Dining Area. Pick your venue of choice according to the number of your guests and the style of your event.
Connectivity
The Chenglim LRT Station is just next door, so you won't have to go far to catch a ride. The other nearby LRT stations are Compassvale and Farmway. From Chenglim, the Fernvale Station is just 3 stops away; a few steps from it are Seletar Mall and Fernvale Point.
You can also easily walk to the Sengkang interchange, which is both an LRT and MRT station as well as a bus hub. It's next to a mall called Compass Point.
In this part of town, driving is bliss. It's away from the traffic jams of the city, but near major expressways like the TPE, the CTE and the KPE.
Must-Visit Places in the Area
Sengkang blooms with greenery, and one of the best things about moving to this neighborhood is its nearness to nature. There are a lot of parks where you can spend some time alone or with the whole family: Sengkang Riverside Park, Sengkang Sculpture Park, Punggol Park, Punggol Waterway Park, Sengkang Floating Wetland, and others.
Apart from parklands, one of the places you definitely must check out is Kopitiam Square. It's just a few blocks away from the site. The first establishment of its kind in Sengkang, it features a modern marketplace and a 24-hour hawker centre.
For sports and activities, check out Anchorvale Community Club, Sengkang Sports and Recreational Centre, Sengkang Swimming Complex, Marina Country Club, Pungol SAFRA, Rivervale Community Centre, or Seletar Country Club.
Other Landmarks
The Vales is quite near Seletar Airport, the new Punggol Watertown, Punggol Serangoon Reservoir and Sungei Punggol. It's also a quick drive to the Seletar Aerospace Park and the Institute of Mental Health.
Nearby Schools
You'll be pleasantly surprised at the abundance of schools in the area, from pre-schools to colleges. Your young ones can build a foundation for their lives at primary schools like Springdale Primary, Springdale Primary, Compassvale Primary, Nan Chiau Primary, Fernvale Primary, Sengkang Green Primary, and others. Your teens can prepare for their futures at secondary schools like Punggol Secondary, North Vista Secondary, Pei Hwa Secondary, Catholic High School, or Nan Chiau High School. As for tertiary schools, there's Nanyang Polytechnic and ITE College Central.
A Rewarding Asset for Generations
The Vales EC is right in a position where you can live a prosperous life. It's certainly worth considering as you search for your next home. If you're thinking about how to stretch your finances, keep in mind that you can't go wrong with the right financial plan. Ask iCompareLoan mortgage broker about the best and easiest way to compare home loan Singapore.